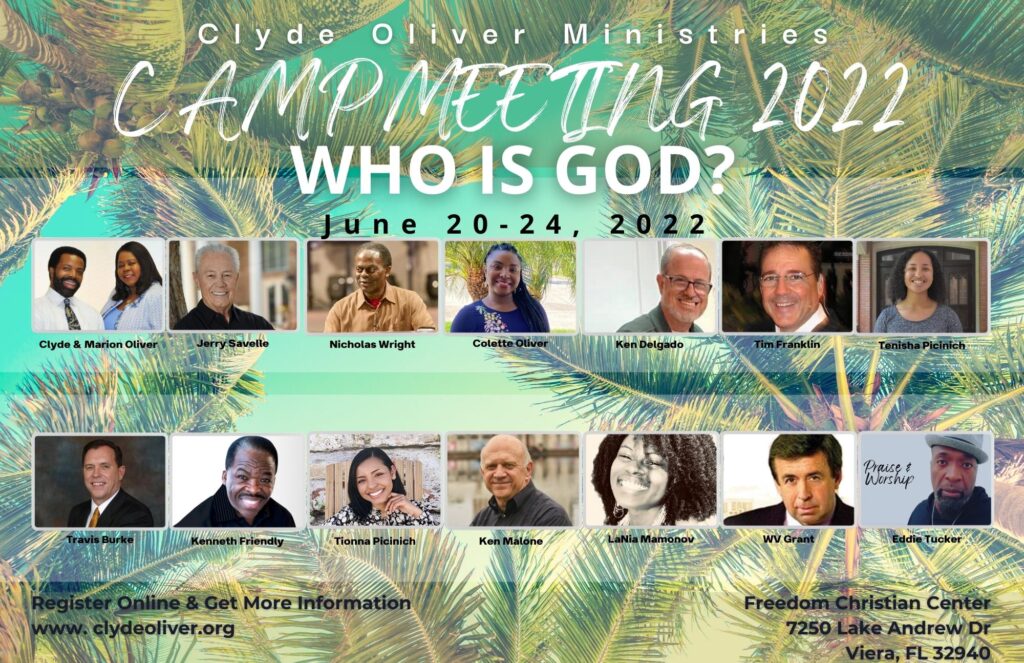 Who is God?
Today we are living in times like no other. The earth is reeling from decisions that have been made by people who think they know more than the God who created them! The theme for Campmeeting 2022 is "Who Is God?"
According to Psalm 14 the fool has said in his heart that there is no God. The word for "fool" comes from a Hebrew word meaning "withering." If we make no room for God, we have withered hearts, our moral sense of righteousness is put to sleep, and the noble aspirations of the heart shrivel up and die. Jesus authorized the Church to lead in the earth alongside the Holy Spirit.
This is our invitation to you to join us June 20-24, 2022, as we bring light to the question, "Who Is God?" Marion and I look forward to seeing you in Melbourne, Florida at Campmeeting 2022! Shalom!
Location
Registration
Online Registration is closed.
Please register at event.
Hotel Information
Schedule
MONDAY 6/20
7:00 PM JERRY SAVELLE
TUESDAY 6/21
9:15 AM NICHOLAS WRIGHT
10:30 AM COLETTE OLIVER
11:30AM KENNETH DELGADO
7:00 PM TIM FRANKLIN
WEDNESDAY 6/22
9:15 AM NICHOLAS WRIGHT
10:30 AM TENISHA PICINICH
11:30AM TRAVIS BURKE
7:00 PM KENNETH FRIENDLY
THURSDAY 6/23
9:15 AM CLYDE OLIVER
10:30 AM TIONNA PICINICH
11:30AM TRAVIS BURKE
7:00 PM KEN MALONE
FRIDAY 6/24
9:15 AM KEN MALONE
10:30 AM LANIA MAMONOV
11:30 AM WV GRANT
MEDIA ORDER FORM

To order CDs and MP3 of services,