JOIN US FOR CAMPMEETING |

JUNE 8-12, 2020 |
Freedom Christian Center –
Viera, FL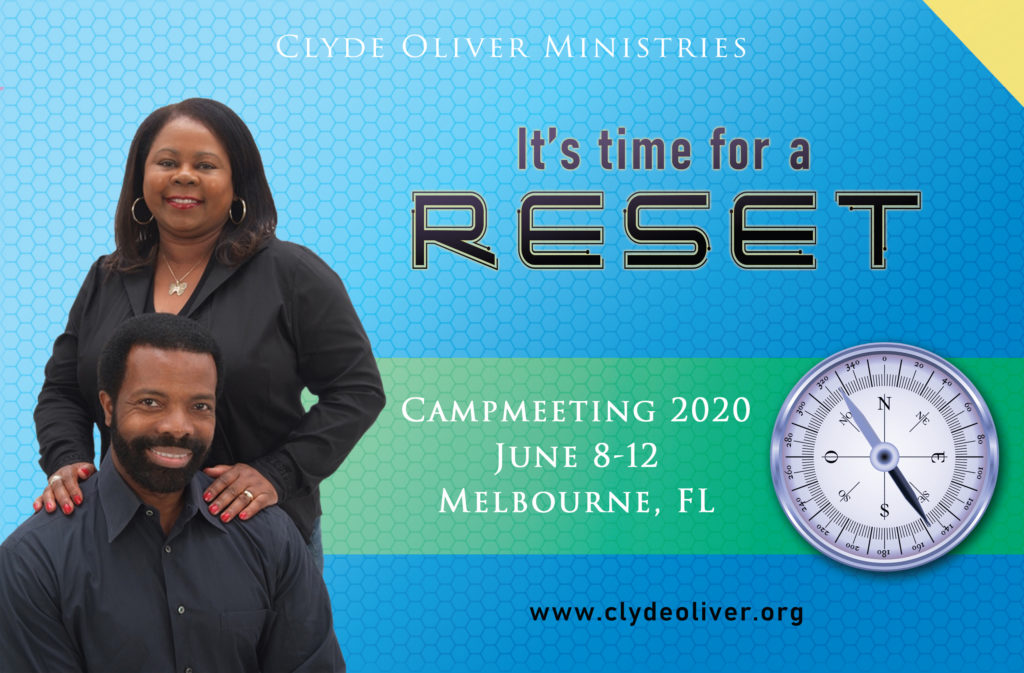 The theme for Campmeeting 2020 is "IT'S TIME FOR A RESET" We begin our lives with zeal and a quest to accomplish much in life. However, along the way we encounter resistance. Resistance is a part of life! Jesus said in John 16:33 TPT, "And everything I've taught you is so that the peace which is in me will be in you and will give you great confidence as you rest in me. For in this unbelieving world you will experience trouble and sorrows, but you must be courageous, for I have conquered the world!"
Anyone who teaches that you will not encounter temptations, testings, and trials hasn't lived long and isn't being a realist! The culmination of resistance in life to your endeavors causes discouragement among many things. During these times, it's important to reset our lives on a personal, corporate, or national scale.
The word "reset" means "to set again or anew". Without constantly resetting your life, you will drift away from your desired destination and live a mediocre life. God has so much more for you!
Save the date and join Marion, me, and our guests in Melbourne, FL, for our 28th Campmeeting, this June 8-12 as we RESET our compass for life! You will be glad you did!
REGISTRATION
NOTE:
Online registration is now closed. You may register upon arrival! No cost to attend.

CDs & MP3 ORDER

Want a copy of the messages on CD or MP3?
Download form to place your order.
SPEAKER SCHEDULE
MON 6/8/2020
7:00 PM CLYDE OLIVER
TUE 6/9/2020
9:15 AM GERMAINE WRIGHT
10:30 AM COLETTE OLIVER
11:30 AM CLYDE OLIVER
7:00 PM TIM FRANKLIN
WED 6/10/2020
9:15 AM GERMAINE WRIGHT
10:30 AM TENISHA PICINICH
11:30 AM TRAVIS BURKE
7:00 PM MERTON CLARK
THURS 6/11/2020
9:15 AM MERTON CLARK
10:30 AM TIONNA PICINICH
11:30 AM TRAVIS BURKE
S7:00 PM KEN MALONE
FRI 6/12/2020
9:15 AM KEN MALONE
10:30 AM LANIA WRIGHT
11:30 AM KEN DELGADO
7:00 PM CLYDE OLIVER
*Praise & Worship
Daily with Eddie Tucker & MCC Worship Team
**Subject to change without prior notice
LOCATION
FREEDOM CHRISTIAN CENTER
7250 LAKE ANDREW DR
MELBOURNE, FL 32940
HOTEL
130 SHERIFF DR
MELBOURNE, FL 32940
321-255-6868
8298 N WICKHAM RD
MELBOURNE, FL 32940
321-255-0077
2400 TOWN CENTER AVE
MELBOURNE, FL 32940
321-425-2800